It is all right there on the main screen
Use the top carousel, drop-down or card-swipe to choose the hearing device or streamer program, or your patients favourite. Tap drop-down to edit programs and favourites.
Use quick buttons for one-tap, advanced sound adjustments.

Adjust volume or mute. Press the split icon to adjust volume for left and right hearing devices independently.
Access Sound Enhancer to adjust treble/mid/bass, noise reduction, speech focus or wind noise reduction*. Also access Tinnitus Manager to adjust pitch and variation of sound from the Tinnitus Sound Generator, or to choose your Nature Sound*.
Navigational menu.
*Feature availability depends on hearing device model and settings provided by your hearing care professional.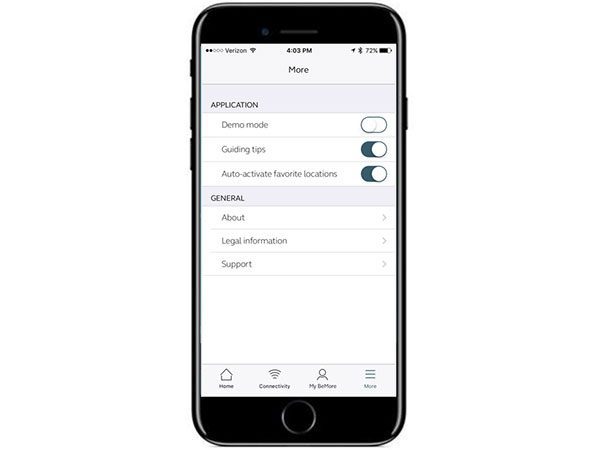 My BeMore – a helping hand
The BeMore app includes a My BeMore section, where your patient can learn more about the app and its features, find guiding tips, and if they lose their hearing devices, use the 'Find my hearing device' feature.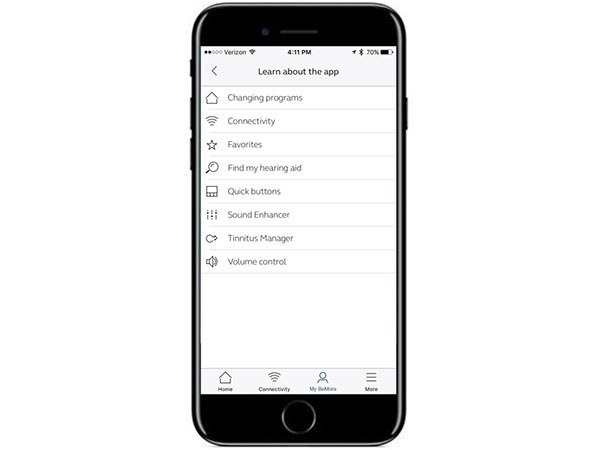 Tinnitus Manager
If needed, you can enable your patients Tinnitus Manager, then they can make adjustments to white noise and six Nature Sounds, helping to break the tinnitus cycle and gain the relief they require.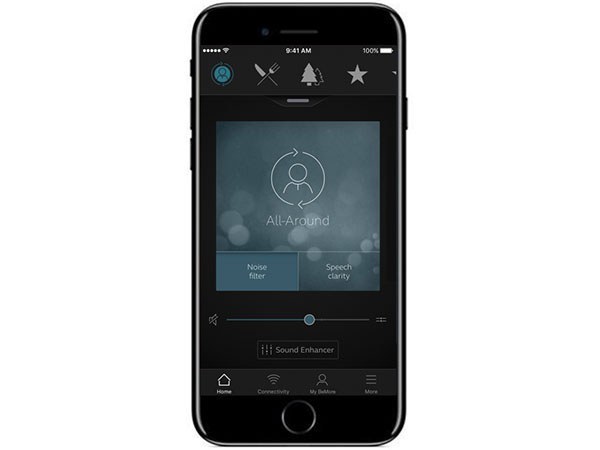 Sound Enhancer –
personalise your sound
With the Sound Enhancer, patients can fine-tune bass, middle and treble, and depending on the hearing device your patients have, they can adjust noise reduction, speech focus and wind noise reduction. What's more when they find settings they like, they can save them as favourites.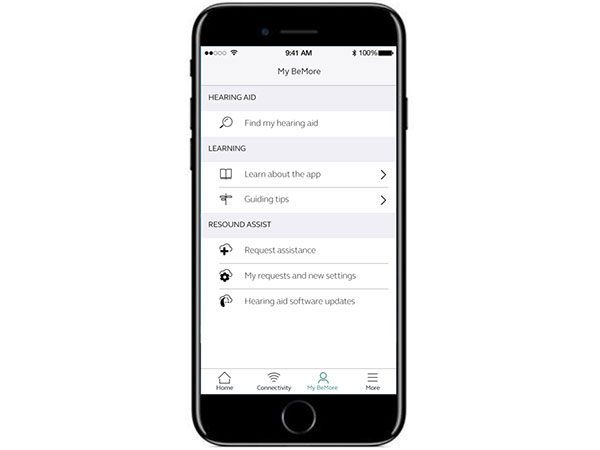 Hearing care wherever your patients are
It is possible for your patients to request changes to their hearing devices from the comfort of their own home. You can inform your patients that if they cannot make the required changes using the app, GN Assist makes it possible for them to request changes to their hearing devices without the need for a hospital visit. These settings will be sent to you to action and then the patient can download, accept or reject at home. The app also has the capability of allowing patients to feedback to you via rate my sound.
Please note this function is only available for danalogic Ambio.
Compatibility
As we are continuously making more mobile devices compatible, please check our up-to-date compatibility information here:
BeMore App FAQs
I can only connect one of Danalogic hearing aids to the app
This often happens when one of your hearing aids is replaced and sent out to you, the hearing aids need to be saved together in the hearing aid software for the phone to recognize them as a pair. Please contact Audiology for advice on resolving this.
I am having problems with the app and connecting aids to Apple device
Firstly, check if your smart device is compatible by visiting go.gn.com/app-support - if your device is supported, then please follow the below steps:
1. Navigate to Settings, Accessibility, Hearing Devices
2. Make sure no GN products are paired to the Bluetooth and if they are please unpair
3. Turn on flight mode on the phone
4. Delete the BeMore App
5. Turn off flight mode on the phone
6. Reinstall the BeMore App
7. If you have Ambio Smart or Actio aids please re pair in settings, if you have Ambio aids go straight to point 8
8. Open the BeMore app
9. Click on Get started
10. Accept terms and conditions
11. Follow the prompts on screen to re connect
I am having problems with the app and connecting aids to Apple device
Firstly, check if your smart device is compatible by visiting go.gn.com/app-support - if your device is supported, then please follow the below steps:
1. Navigate to Bluetooth on the phone
2. Make sure no GN products are paired to the Bluetooth and if they are please unpair
3. Turn on flight mode on the phone
4. Navigate to settings- Apps- BeMore
5. Click force stop
6. Click on storage
7. Click clear data
8. Turn flight mode off on the phone
9. Turn on location services
10. Turn the hearing aids off
11. Open the BeMore app
12. Click on Get started
13. Accept terms and conditions
14. Follow the prompts on screen to re connect
Supporting documents
If you're looking for additional information regarding the BeMore app, you will find it here: