Welcome to the danalogic family! If you are looking for NHS hearing aid instructions or manuals for your danalogic hearing aids then you've come to the right place!
Whether you've just received hearing aids, or you're waiting for your fitting appointment this is a very exciting time for your ears. Our Bluetooth-enabled digital hearing aids provide impressive sound quality, so you can enjoy clearer speech, richer sounds, and a vibrant listening experience, giving you confidence in any situation. With a range of colours and the ability to be wirelessly controlled via your smartphone, they are also discrete and convenient to use.
Which hearing aid have I got?
Hearing Aid Instructions
We provide three models of Bluetooth enabled digital NHS hearing aids.
We all need a little help from time to time, click on your hearing aid below to access helpful how to videos and instructional guides, covering a range of topics from deciphering left from right, changing the volume, and even connecting to your smartphone.

Ambio
The original danalogic Bluetooth-enabled digital hearing aid, designed exclusively for the NHS, featuring automatic feedback reduction, noise reduction, binaural directionality, and tinnitus programs.
Ambio Smart
Danalogic's first rechargeable Bluetooth-enabled, digital hearing aid, with upgraded binaural directionality, localisation, and noise reduction programs, supporting you to hear clearly wherever you are.
Actio
New rechargeable behind-the-ear (BTE) solution – for mild to severe hearing losses – offering the latest innovations in sound quality and connectivity, in a new design and with industry leading rechargeability.
Hearing Aid Success
We understand that changing hearing aids or having them for the first time can feel like a big step, so our Audiologists have written a 'top tips' guide to help you navigate your new world of sound. It includes suggestions to help ease into wearing them, and advice on caring for your new hearing aids
Communication Tactics
Read our guide to find out how to communicate effectively if you have a hearing loss or if you are speaking to someone with a hearing loss.
Personalise your hearing experience with our apps
BeMore app - discreetly control and personalise your hearing devices
Relief app - easily and discreetly manage your tinnitus symptoms and find comfort
Expand your hearing experience with wireless accessories
Thanks to 6th generation 2.4GHz wireless technology, a variety of wireless accessories that work seamlessly with danalogic NHS hearing aids are available:
Multi Mic

– works as a roaming microphone, streaming sound from up to 25 meters (80 feet) away directly into your ears. This handy device can also be used as a table mic for meetings or in noisy restaurants, picking out conversation over background noise, so you can join in despite the hubbub
Micro Mic – a mini version of the Multi Mic, worn by a speaker to help you hear them more clearly, for example, a loved one, teacher or colleague
TV Streamer 2 – streams audio from your TV so you can enjoy crystal clear sound at the volume you prefer, whilst still participating in conversations around you

Remote Control/Remote Control 2

– much like a TV remote, this device enables those who prefer to adjust their hearing aids via a handset, (rather than using the buttons on the hearing aid, or a smartphone app), to change the volume or switch between pre-set programs

Phone Clip+

– enables you to stream phone calls from any Bluetooth enabled telephone. This device also doubles up as a remote control when you are not on a call
For more information, visit our hearing aid accessories page, email us at [email protected], or ask your Audiologist about danalogic wireless accessories.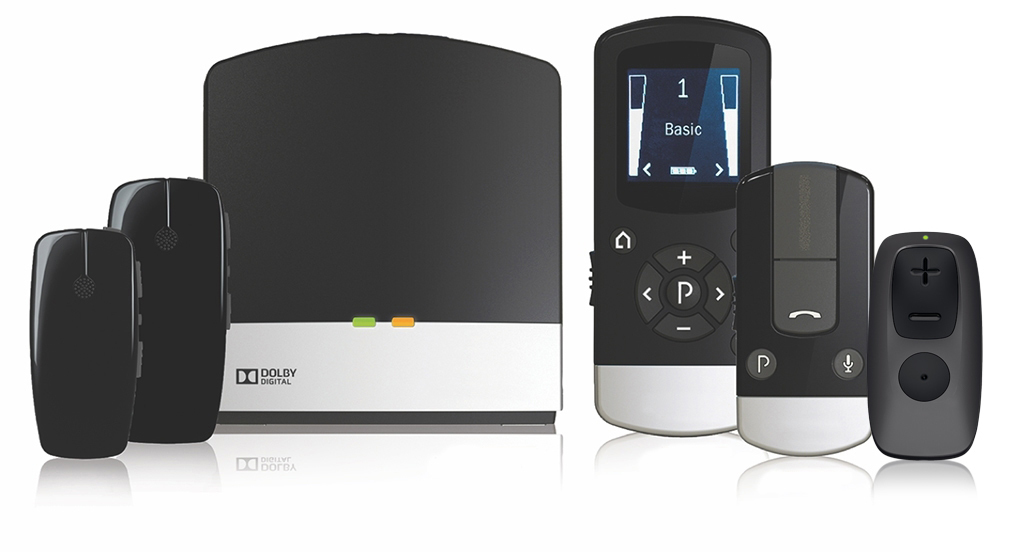 Remote Care
Thanks to the wonders of modern technology, Ambio Smart and Actio hearing aids can be adjusted remotely by your Audiologist. You can either have an online consultation (e.g. video call) while your Audiologist makes changes in real-time, or message your Audiologist and receive downloadable fine-tuning updates via the BeMore app. Either way, danalogic's remote care functionality means you can receive help from the comfort of your own home.
Who are danalogic?
Danalogic is part of the GN group, one of the world's leading manufacturers of advanced hearing technology. Founded in 1869 and employing over 5,000 people, GN has an impressive legacy of products that help people to hear more, do more and be more than they ever thought possible.
People are at the heart of everything we do; working closely with the NHS our mission is to help more people to hear better.
What our hearing aid users have to say
Imagine the feeling of being able to say 'I now have my hearing back' and feeling like you are rediscovering the sounds you thought were lost forever. Our latest story comes from a gentleman who has recently been fitted with danalogic Ambio hearing aids who contacted us to share his positive experiences.
Read the full story here
A profoundly deaf teenager is listening to sounds he has never heard before thanks to the latest technology, danalogic Ambio Smart.
Read the full story here

After 12 months of searching for an accessory to help in the workplace, hear how the GN Hearing Phone Clip+ has made a massive difference to the life of this lady.
Read the full story here