Excellence as standard
The needs of your patients vary depending on a range of factors in addition to their hearing loss – their lifestyle, outlook and dexterity to name but a few. We believe you should be able to offer the right solution for each and every patient, whether their needs are simple or complex. With danalogic c-Series you can give your patients the same potential to hear, communicate and interact as the people around them.
Greater personalisation
The danalogic c-Series gives your patients the automatic convenience of the danalogic e-Series while giving you the option to tailor it to meet the challenges of a varied lifestyle.
danalogic c-Series key features
Softswitching – with Bandsplit Processing
Your patients can focus on the sounds that are important to them without losing touch with what's going on around them.
Automatically narrows the directional beam in on conversations taking place in front of the listener as noise levels increase and it automatically widens the directional beam when noise levels decrease. This enables the hearing instrument to optimize speech understanding appropriately in noise while improving environmental awareness when less noise is present.
Dual Stabilizer DFS II – With Feedback Eliminator
Suppresses feedback in just about every conceivable situation, without sacrificing appropriate gain.
The c-Series wireless range also includes a Sound Generator option as standard, so you can manage your patients' tinnitus and/or hearing loss simultaneously. We have developed this flexible tinnitus platform to allow you to personalise the sound therapy for each individual patient. When combined with informed counselling, it is recognised as a highly effective way of managing tinnitus.
Be wireless-ready
danalogic Ambio includes 2.4GHz wireless as standard.
Our wireless accessories give patients with a hearing loss access to many of the methods of communication such as using the telephone, listening to music or the radio and watching TV, which most patients take for granted.
Visit wireless accessories page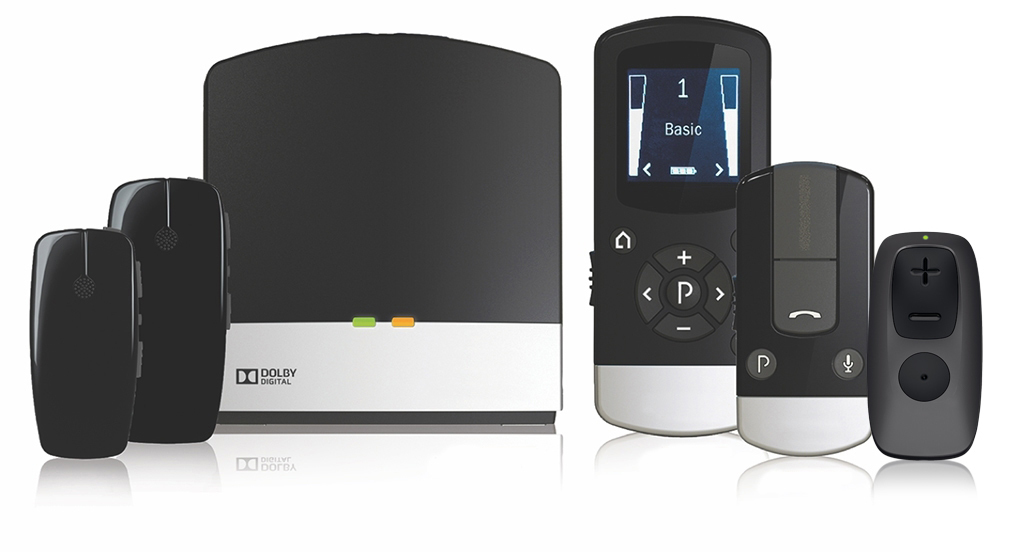 From left to right: Micro Mic, Multi Mic, TV Streamer 2, Remote Control 2, Phone Clip+
The danalogic c-Series colours available
Supporting documents
If you're looking for support & care, data sheets, user guides, patient sheets or white papers, you will find them here: